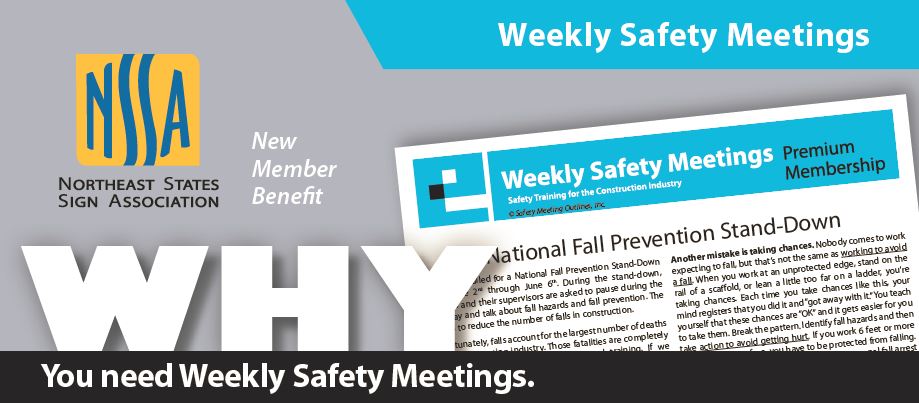 Weekly Safety Meetings help protect your most valuable assets
NSSA Sign Company Members can take advantage of our Safety Meeting Training member benefit.
NSSA has made special arrangements with Safety Meeting Outlines to provide every NSSA Sign Company Member with Weekly Safety Meetings at 50% off the regular retail rate, emailed to your Inbox once each month.
NSSA is focused on helping you make your business stronger.  Job site safety is an area where we can help you and your employees at the same time.  Our association offers you the opportunity to buy Weekly Safety Meetings for only $100 per year! Let your people know that you are personally invested in their safety.
Share the outlines with your lead staff and they can review the material in the shop or onsite.  Training can be a s quick as ten minutes or less.
NSSA Sign Company Members receive:
4 or 5 new Weekly Safety Meetings via E-mail each month, available in English and Spanish.
Quizzes – Members can improve learning and retention by implementing quizzes after each weekly meeting.
Online Library – Members can tailor their training to match current hazards by choosing from over 250 titles in the Construction Library.
Each Weekly Safety Meeting is personalized with the member's company name.
You must opt-in to receive this benefit.
Opt-in now – Safety Saves!  Contact Jean.gavigan@nssasign.org to order your subscription.
Subscriptions are for the calendar year, we will invoice you for the pro-rated balance due.
Check out http://www.safetymeetingoutlines.com to Learn More about this valuable offer.
Not an NSSA Member? Join now. Download the NSSA Membership Application.